Sikau Tran is originally from China and came to Sweden as a four-year-old. He is the creator of the world unique AMS Zone Therapy Insole which is today sold in several parts of the world.
Sikau has always been an active guy who was doing a lot of different sports when he was younger. In Hässleholm/Sweden, he is well known for both his ambition for working out as well as his entrepreneurship.
As a kid, he loved to play sports, but with age, it became more difficult due to various pains, which eventually forced him to quit. He has, since childhood, also suffered from fallen foot arches (flat feet) that made it very painful for him to walk and stand up for more than 3 hours at a time. With these pains in his body, he went to China to study but also to find suitable products and solutions to his ailments. After having tried a couple of zone therapy-esque insoles in Korea, curiosity led him to studies and research in the field of zone therapy and acupuncture. Gradually, Sikau, together with certified acupuncturists and specialists in the field, developed an insole with zone therapy and acupuncture effects combined with traditional Chinese medicine. Today, the insole is under constant development and the latest and foremost zone therapy and magnetic insole on the market is the Foot Points AMS 350 Zone Therapy Insole.
In 2009, he invented the AMS Zone Therapy Insole when he was in China and today the insole is protected under Industrial design rights, and thus completely unique. The Foot Point brand is owned by his company R&S International which has offices in both Sweden and China. Sales take place worldwide and further development of AMS takes place in Hangzhou, China. R&S:s office and laboratory in China are studying and developing various acupuncture and zone therapy products that will be sold in Sweden shortly.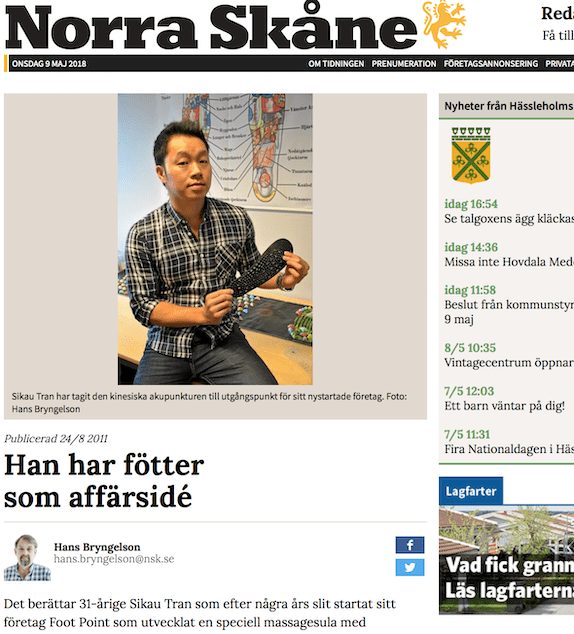 Name: Sikau Tran
Age: 39 years
From: Born in China, came to Sweden in 1985, grew up in Hässleholm/Sweden
Profession: Self-employed. Runs the company R&S International AB. Obtains the name Foot Point to sell different types of zone therapy insoles.
DEVELOPMENT
Sikau's research is based on TDM (Traditional Chinese Medicine) and zone therapy. Development was based on his own and the individual's issues and problems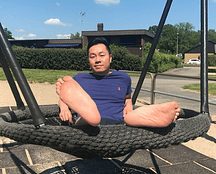 Since Sikau was little, he has had problems with his own foot health such as pain due to fallen foot arches. This spurred his interest in acupuncture and zone therapy in 2009. That same year, he discovered zone therapy and even received his first acupuncture treatment.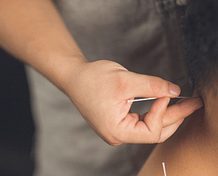 2. Studies in acupuncture
In 2010, Sikau began studying acupuncture and Zone Therapy, which he then delved deeper into when he was in China. He learnt how to massage and stimulate the body to gain an overall understanding of Zone Therapy and acupuncture. With the help of this knowledge, he has been involved in developing the AMS Zone Therapy Insole.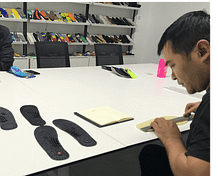 Today, Sikau is still researching and developing the AMS Zone Therapy Insole together with acupuncturists and specialists in China. AMS received industrial design rights in 2011 and thus marketing and sales began at various trade shows around the country. During AMS:s first trade show in Kristianstad, more than 330 pairs of insoles were sold.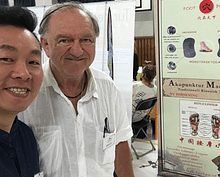 Today, AMS helps many people to better health, and thus a better life. More and more people discover and take an interest in AMS and support our activities and research. All this appreciation is something that us at Foot Point are eternally grateful for, and this motivates us to develop an even better AMS Zone Therapy Insole that can help people to an increased sense of well-being.
You are an economist and System Developer; how come you developed the AMS Zone Therapy Insole and started your own business?
As a young man, I had major problems with pain, and this prevented me from participating in activities which was very difficult for me during this time. When I studied at the Universities of Kalmar and Gothenburg, I encountered other people who had similar issues with pain as I did. I eventually noticed that there were a lot more people than just myself who suffered from the same health problems as me if, and worse.
After my studies in Sweden, I had the opportunity to go to China to study further and in connection with this I started studying Chinese medicine and acupuncture which I had heard a lot of good things about from the people around me. After about half a year in China, I tried a couple of zone therapy-esque insoles from Korea and they made me feel so much better as my aches disappeared completely after a couple of hours of daily use, after just a couple of weeks. I started to become more and more curious, and after studying and researching in the field, I further developed the AMS Zone Therapy Insole together with experienced acupuncturists and specialists. Thereafter I had over a hundred people give them a try, and only a couple of weeks later, I received very good feedback from the participants. In conclusion, the test subjects felt much better after using the insoles as many felt an improved difference in their body. As the weeks went by, the good feedback continued to come in and more and more thanked me with everything from long letters to flower bouquets. One customer I will never forget was an older lady who cried while thanking me for the insoles that I had developed. This event made a huge impression on me when I realized how much I could actually help people with the AMS Zone Therapy Insoles. The lady and that whole event touched me so deeply so that my eyes also began to tear afterwards when I realized how my insoles had changed her life.
Out of the hundred people who tested my insoles, only two were dissatisfied with the AMS Zone Therapy Insoles. 92 percent thought the insole had made a positive difference in their life by reducing or removing pains completely. The remaining 6 percent thought that our Zone Therapy Insoles had not made much difference but were very comfortable to use.
Why do you have offices in China?
We have both offices and laboratories in China/Hangzhou to facilitate research, as the centre of acupuncture and zone therapy is located right there, as well as to find professional partners in China.
How many insoles have you sold in total?
I don't have an accurate number to give, as a large number of our AMS Zone Therapy Insoles are sold daily. But what I can say is that the number of insoles sold is large and will hopefully and probably grow even larger over time. But the most important thing is that the insoles actually do help people who need it, which has been proven and I am very happy about that.
I am glad that more and more people discover the insoles and appreciate them, because it will be like an acknowledgement that we have managed to make people feel better.
Your logo contains a Chinese sign, what does it mean?
The sign 穴 means "acupuncture" in Chinese. It is easy to remember because it refers directly to Chinese acupuncture. The logo is a red circle with the word 穴 inside. Red stands for fire in Chinese – fire is a description of Yin and Yang – a principle that explains the interaction of opposites that maintain and create life.
The strategy of R&S is to continue our development and convey several thousand years of Chinese knowledge to other parts of the world. In the future, we at R&S look forward to coming up with more health products based on traditional Chinese medicine